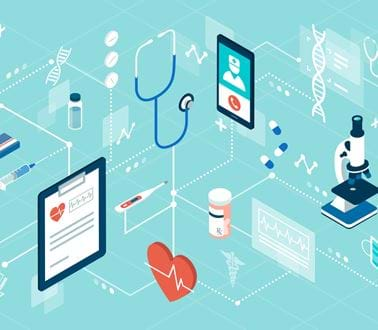 Transforming healthcare
We live in an increasingly digital world which has been accelerated by global crises such as the COVID-19 pandemic. This move to digital means that people find themselves using smartphone technology for common and even critical tasks more frequently. In the healthcare sector, the introduction of Integrated Care Systems (ICSs) allows the patient pathway from primary, acute, outpatient and into community care to fit together seamlessly.
The NHS quite rightly recognises this. As part of its well thought out Long Term Plan, it is expanding its health access app to cover GP and vaccination bookings, online consultations, health records, appointment notifications and potentially even patient feedback. This progresses the ability for the public to directly engage with healthcare providers in a modern and intuitive way – predominantly accessed via mobile devices.
As with any digital transformation, it brings a host of security and operational questions, which will be managed carefully and supported by leading digital health providers. These supporting services will need to consider how to ensure (as with any app) that it and any software updates remain safe and secure, flagging up when the system is not functioning as expected, and what features and functions can be applied to improve it as requirements evolve. Most importantly, as the NHS' ICSs connect with healthcare providers and patients like never before, the protection of patient's private, critical medical data will be paramount – to protect people, and to ensure that we can continue to support the health services with safe advanced digital solutions.
Talking points
Roke has a long history of providing data security and support for our clients during key digital transformation projects. As the NHS continues down its long term plan towards digitalisation, top of the agenda will be:
Data security
The security of patient data is critical for the NHS and all health providers in general. Security provides trust, and for an organisation where this information can be the difference between life and death, trust has never been more important. We can combine the skills of security professionals, human scientists and technologists, to assess risk and ensure that people and data security can be built into new system architectures and processes from the outset.
Data analytics
Gathering data is vital for any organisation, but understanding how to gain insight from data and then apply that to inform decision making is even more important. Analytics provides information on where and when resources can be best deployed, spot potential risks before they occur and understand trends such as recurring symptoms or overworked hospitals. Through deep learning and AI tools, we have automated the analysis of data to help organisations like the NHS, become more agile and flexible, including lessening the burden on radiologists analysing Computerised Tomography (CT) scan data.
Community health
The NHS is working hard to remove health disparities in regions, communities and age groups. To do this effectively, predicative tools are used which can proactively identify who, where, and what patients need to support their health concerns. Additionally, virtual wards are being developed to enable patients to complete their recovery at home when the time is right. These support patients through remote monitoring using apps, technology platforms, wearables and medical devices such as pulse oximeters. By incorporating smart sensors to connect those isolated in remote communities, we can help accelerate this outreach, and data science can uncover health risks and predictive analysis for timely intervention.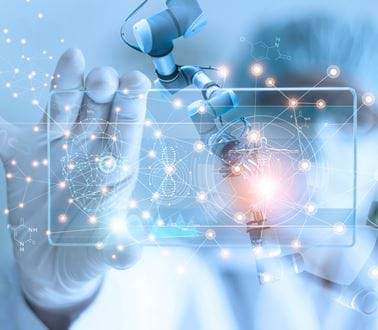 Get in touch
If you would like to know more about any of these topics or how Roke can help support your organisations digitalisation journey, please get in touch.
Related news, insights and innovations
Find out more about our cutting-edge expertise.