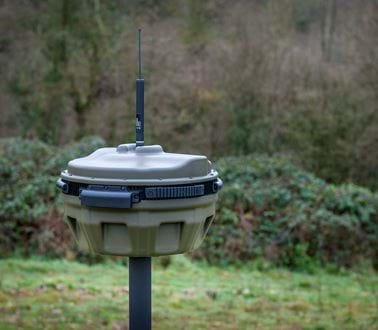 What is PERCEIVE MR®?
The next generation in integrated wideband sensor
PERCEIVE MR® is a Small Form Factor Antenna Head, developed for use at the cutting edge of Electronic Surveillance. It is the first tactical wideband integrated antenna head to utilise both Adaptive Beamforming and Super Resolution Direction Finding technologies in such a small sensor. This approach allows operators to 'see' through the clutter and report pinpoint position fixes with the highest degree of accuracy and the smallest sensor profile.
Deliver unprecedented capability
PERCEIVE MR® can target, classify and identify frequency hopping sources operating at over 10,000 hops/second. It also provides intercept capability against Digital Mobile Radio, even in privacy mode, with real time DF and supports up to 32 Direct Digital Drop Channels (DDC), with user configurable bandwidth, allowing up to 32 targets to be classified and streamed simultaneously.
The system is driven by our latest software suite, PREFIX/VIPER, allowing full function mission planning, execution and exploitation with minimal operator burden. Intuitive workflows are driven by advanced algorithms that are designed to evolve with the threat.
Interoperable through an open standards approach, PERCEIVE MR® can integrate with third party applications, radio heads and receivers, with specific focus on vehicle integration.
A one pulse per second (PPS) timing circuit allows the system to continue to operate in a GPS denied environment. Additional features include inertial navigation and electronic compass and magnetometer operation. This means the system can be meshed with other PERCEIVE MR® units to operate at Time Difference of Arrival (TDOA) as opposed to Angle of Arrival (AOA) for normal operation.
Key features
100MHz instantaneous bandwidth covering 2MHz to 6GHz
Super Resolution Direction Finding separates multiple signals on the same channel
32 Digital Drop channels
Adaptive Digital Beamforming increases sensitivity and reduces co-adjacent channel interference
Azimuth and Elevation
Fast Hopper effective intercept
Dual GNSS Compassing with MEMS inertial sensor data and magnetic compass
PREFIX/VIPER software for laptop or screen use