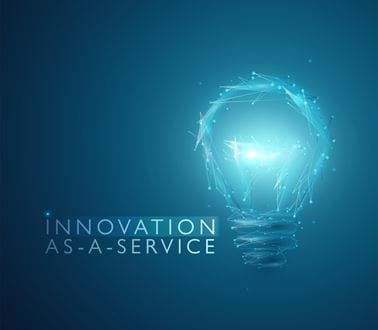 What is innovation-as-a-Service?
Embedding innovation into your organisation
What triggers your drive for innovation? And how do you design and invest in appropriate strategies?
We've been combining the physical and digital in new ways for over 60 years, creating an environment where innovation can flourish.
Now you can take full advantage of our insights and expertise to save time and effort. Our Innovation-as-a-Service offering provides access to our people, processes and technologies so you can capitalise on our advanced research across multiple sectors and domains.
This collaborative and agile service embeds our Innovation Engine and experts into the heart of your business or organisation. Submit your research ideas with just a call or an email to a dedicated Roke coordinator, and we take care of everything else.
Resource, research, deliver
Our Innovation Engine connects teams across Roke, matching each task to experts with the required skills to validate new thinking. It also assists with scheduling tasks and captures the outcomes.
Every month, customers receive the full-text output from any completed tasks submitted, as well as the INfuse whitepaper: a summary of the outputs from completed tasks that match specified interests.
Our tiers
Our Innovation-as-a-Service programme aligns to different services to best match your requirements.
Influence
Influence is a fixed monthly subscription that offers unlimited research idea submissions. Customers can:
Discuss ideas with Roke experts for rapid feedback
Receive INfuse whitepaper summarising tasks submitted by others
Receive full text output from submitted tasks
Submit ideas on-demand via a dedicated Roke coordinator
Targeted
Targeted provides a deep-dive into an area of specific interest, built on demonstrated output, not promises. It includes:
Validation of ideas with extended research tailored to specific use-cases
Bespoke engagement with dedicated Roke researchers
Extended studies build on initial Influence research
Exclusive and confidential full-text output
Dedicated
Dedicated allows customers to accelerate research into reality fast. It includes:
Bringing ideas to life through prototyping and development
Ability to embed world-class Roke experts directly into internal teams
Access to Roke Rapid Prototype and experimentation facilities
Priority allocation of resources
Streamlining innovation
By simplifying the commercial process, we provide innovation that responds rapidly to customer needs. With our Innovations-as-a-Service, you have the freedom to commission studies as they're needed, and to change priorities on the fly without the burden of contract negotiations.
Key benefits
Remove the HR and resource burden, and fix research and development costs
Supplement existing commercial frameworks with low TRL rapid idea exploration
Engage world-class experts on-demand for Targeted and Dedicated research
Discuss ideas and challenges with senior technologists, without the need to embed additional capability