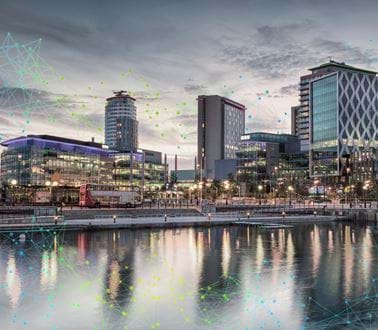 Roke has opened a new client hub at HOST in Manchester to create high calibre jobs and deliver mission impact for clients. The business will provide Digital Superiority by leveraging emerging technology which is revolutionising the way we live and work.
Manchester is already the fastest growing tech city in Europe. Roke's expansion plans will create new jobs in artificial intelligence (AI), data science and cloud engineering roles to support government customers and industry.
A team of experts in AI engineering, architecture and data analysis have relocated to the new office and look forward to welcoming the new recruits in the near future. The office also supports a flexible, connected and collaborative working environment for colleagues and clients across the UK.
Roke is experiencing strong growth with high demand from multiple customers seeking consulting, technology and R&D services, driven by its deep knowledge in sensors, communications, cyber and AI.  The business has been innovating for over 60 years and operates across the national security, defence and commercial domains.
This deep and broad-ranging knowledge means Roke experts are uniquely placed to combine and apply these technologies in ways that keep people safe whilst unlocking value. Key innovations include Iris, an automatic number plate reader, the first of its kind;  STARTLE® which uses AI technology to improve situational awareness in Royal Navy vessels and RESOLVE, a unique tactical man-pack electronic warfare system with direction finding and intercept capability. 
Roke is building on that position of strength with continued investment in people, infrastructure, product development and intellectual property. In November 2020, a cohort of 44 graduates and apprentices were on-boarded, the largest number to date. And, in January 2021, Roke introduced its Cyber Launchpad, scaling up existing technical training programmes to nurture cyber talent.
Over 600 engineers and business professionals work at client hubs in Gloucester, London and from its headquarters in Romsey, Hampshire. A number of colleagues also work directly with clients on their sites.
Paul MacGregor, Managing Director of Roke commented:
"Companies are made by the skills, ideas and passion of their people, and we're delighted to be opening a new client hub in Manchester, with its thriving digital ecosystem. Our insights, products and services are critical to government and blue-chip customers who trust us to safeguard what matters.
"That's why we've also fostered an environment where some of the finest minds have the time, trust and freedom to succeed. This is an exciting opportunity to inspire and support technical ingenuity to build economic prosperity across the country and transform our world."
Tim Newns, Chief Executive, MIDAS, said:
"The news of Roke's expansion is extremely welcome and another fantastic addition to Manchester's booming digital and tech ecosystem.
"Already home to the UK's government security agency GCHQ, Manchester is the nation's fastest-growing cyber ecosystem providing a world class environment for Roke to converge and collaborate with like-minded specialists, undertake R&D and tap into the region's rich tech and cyber talent. We look forward to providing them with continued support and guidance on their growth journey."
Related news, insights and innovations
Find out more about our cutting-edge expertise.