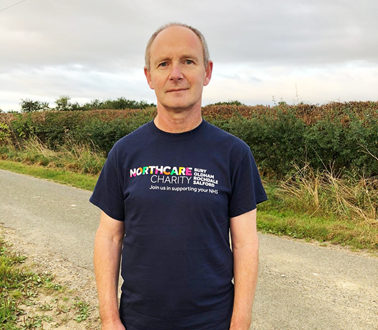 Andy Edmonds, a Rokie who was left in a critical condition and unconscious by the side of the road after strong winds knocked him off his bike, has overcome his injuries to take on the Great Manchester Run for NorthCare Charity.
The keen cyclist sustained multiple life-threatening injuries and broke several bones when the freak accident happened during a lone cycle ride in August 2020. His condition was so severe that he was taken to the Major Trauma Centre for Greater Manchester, based at Salford Royal where he was treated for chest and lung injuries in the Critical Care Unit, before having a lung operation at Wythenshawe Hospital.
Following discharge in September 2020, he attended fracture and spinal clinics and received physiotherapy from staff across Salford Care Organisation, which is part of the Northern Care Alliance NHS Group (NCA).
Andy, a project manager in our Futures business, has spoken about his ordeal, for the first time, as he prepares to take part in the Great Manchester Run's half marathon, on Sunday (26 September) to raise money for NorthCare Charity.
Andy said:
"I have no recollection of the event itself and my memory of the following few days are limited. I vaguely remember waking up on the trauma ward at Salford Royal and being in need of the care and support of a great many people. It was all a bit of a shock for someone who had had very little interaction with his GP, let alone a hospital.
"I feel I was extremely lucky to have survived and received the care that I have. It's incredible how the body is able to recover and respond so that you come out the other end. There are a few parts of me that don't look or work the same, but overall, I've made a good recovery and been on quite a journey over the past year."
An already difficult recovery was more challenging because Salford Royal is around 100 miles from his home and restrictions in place due to COVID-19 meant his family could not visit. However, staff regularly communicated with them and he was able to see them via video calls, which were set up by the hospital as part of his recovery.
Andy added:
"I benefitted enormously from the continuity of care and the support of so many people who have helped me to navigate the ups and downs to where I am today. And when the opportunity came up to get involved with the Great Manchester Run, I knew it was the right time and Roke were delighted to provide a corporate donation to help me raise money for a great cause like NorthCare Charity.
"It's my first time competing in Great Manchester Run and I'm sure it won't be easy as I'm not back to the fitness I had before the accident. But if I can do it and get to the end, while raising a good amount of money, I'll be satisfied."
Paul MacGregor, Roke Managing Director said:
"We're so grateful to the NorthCare Charity and NHS for providing Andy with the care to recover so strongly. His story is an inspiration to us all, and every Rokie will be cheering him on as he crosses the finish line!"
NorthCare Charity Fundraising Officer Becky Swithenbank said:
"Andy has been on a remarkable journey and everyone involved with his care is so pleased that he has made such a fantastic recovery. This is down to his strength and determination, as well as the fabulous care he has received from our NHS staff during what has been the most challenging 18 months of their lives.
"We've been overwhelmed by the support and love for our NHS staff. Supporters like Andy help us raise vital funds so we can continue to make a difference to people's lives across Greater Manchester and beyond."
Related news, insights and innovations
Find out more about our cutting-edge expertise.