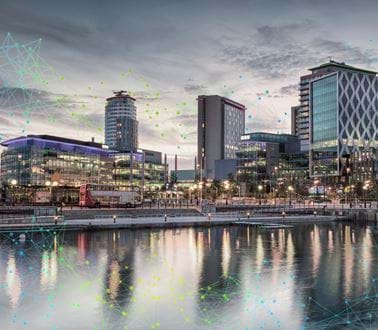 The Roke team is looking forward to attending Manchester's Digital City Festival (DCF) in Salford Media City from 7-11 March. During the week-long event it will be exhibiting at related events, Digital City Expo on 9 and 10 March at Manchester Central Convention Complex, and the Cyber Summit on 7 March at HOST Salford.
Digital City Festival is an annual event series that explores what makes a thriving digital city such as Manchester. Recently expanding into the North West by opening a hub in the offices of partner organisation HOST Salford, Roke is bringing new jobs in artificial intelligence (AI), data science and cloud engineering roles to support government customers and industry to the area.
DCF provides the opportunity for Roke representatives to meet some of the regions finest minds to discuss how they could join the expanding business, or to open discussion with potential partners to work together in leveraging the emerging technology which is revolutionising the way we live and work.
Kicking off with the Cyber Summit in the HOST Salford offices, members of the Roke team will be present for the opening of the event, and Senior Client Manager, Mick Gallagher will be part of a Roke sponsored panel on Jobs & Future skills.
From 9-10 March, Roke will be exhibiting at the Festival's Digital City Expo at Manchester Central Convention Complex on stand 138. The team will be on hand to discuss with local businesses and organisation how Roke can drive insight and scale to their data operations. Additionally, delegates will also receive a warm welcome from a few friendly 'Rokies' who will be happy to introduce themselves, share insights into Roke and discuss potential opportunities for technical candidates and SME businesses too.
Related news, insights and innovations
Find out more about our cutting-edge expertise.