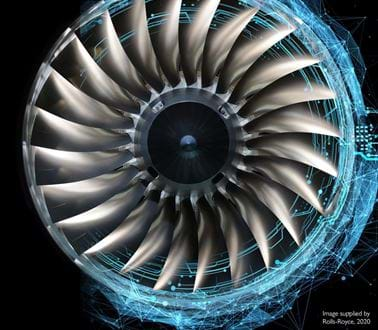 Roke has been chosen as a key technology partner on the REINSTATE project, led by Rolls-Royce with support from the ATI Programme, to accelerate the delivery of future aerospace servicing capabilities.
Roke engineers will lead on the development of smart algorithms that use data from engine installed inspection sensors to analyse and provide rapid in-service diagnostics. Key benefits will include increased availability of aircraft and reduced through-life expense.
Work on the project will start in 2021 and continue for the next three years. The programme is also supported by other SMEs and a number of UK universities.
This project builds on the success of another Innovate UK supported programme, INSPECT, in which Rolls-Royce and its partners developed a novel optical inspection solution to support the IntelligentEngine vision. Roke helped to deliver this project, developing inspection algorithms to enable probes to inspect engine components automatically every time an aircraft lands.
These initiatives, collectively, look to meet the complex needs of the sector, and make the UK a competitive centre for the global aerospace industry.
The REINSTATE project is supported by the ATI Programme, a joint Government and industry investment to maintain and grow the UK's competitive position in civil aerospace design and manufacture. The programme, delivered through a partnership between the Aerospace Technology Institute (ATI), Department for Business, Energy & Industrial Strategy (BEIS) and Innovate UK, addresses technology, capability and supply chain challenges.
Said Paul MacGregor, Managing Director of Roke:
"Roke is delighted to be a part of REINSTATE. This exciting project paves the way for the delivery of new energy-efficient aircraft and sustainable aerospace services.
"Focusing on our machine vision capabilities, we will help Rolls-Royce interpret and exploit the diverse data challenges to better predict when engines need maintenance.
"Meeting these demands requires constant innovation. Roke is also investing additional funds in REINSTATE to expand our product, service and capabilities further, maximising opportunities to support customers in new markets who will benefit from this technology."
Related news, insights and innovations
Find out more about our cutting-edge expertise.