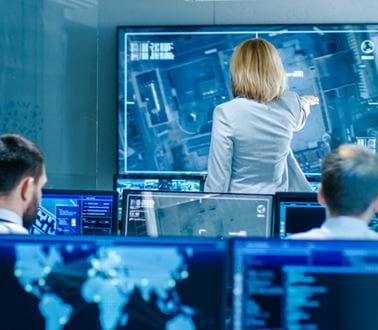 Trusting data to provide reliable evidence for sound prosecution
In an era of falsified news, the scrutiny of information for provenance and accuracy is an everyday public activity. The law enforcement community is finding itself increasingly dependent on data, and at Roke we've been considering the sheer volume of data available and the ethical and legislative use of using AI technologies to assist data processing. In this first of a series of articles, we consider how to enable policing and law enforcement agencies to trust their data sources, to provide reliable evidence for sound prosecution.
When data becomes the enemy
In recent times we've seen how investigators into the Manchester Arena terrorist attack were swamped by a tsunami of data. Data was everywhere, coming from every possible source, as the UK and international community were gripped by the nature of the attack and the tragic fate of the victims. There is overwhelming pressure, in the face of a huge public and media outpouring, to identify those involved in such incidents and to bring them to justice.
In business, data is stored to gain competitive advantage – companies may not know why it will be analysed or if it will be used at all.  But this is not a policing concept, as disclosure mandates that data must be fully researched and assessed. As Dame Cressida Dick, Commissioner of the Metropolitan Police Service, said at RUSI in February 2020, when just one crime scene can exceed 100tb (terabytes) of data, the need to examine it for relevant evidence is paramount, uniquely challenging and highly resource intensive, yet absolutely essential.
Living with the enemy
Policing and law enforcement agencies are increasingly using technology to assist their use of data. However, as MI5's former Director General, Sir Andrew Parker, stated, "Technology will never replace our need also to have human insight." AI that works with investigators to rapidly search data, images and information with confidence can be invaluable to determine a clear understanding of events.
In the post-incident investigation of the 2017 Manchester attack, police investigators worked tirelessly with colleagues across the UK and the globe. Sharing data at all levels of classification, once it had been assessed and quantified, was paramount. Legislation that protects privacy was respected, balanced against a need to establish the movements and whereabouts of suspects and innocents. Links were made from raw data to other structured and unstructured data and imagery, identifying the suicide bomber and leading to the arrest and conviction of others involved.
Turning the enemy into a friend
From our own experience of coupling humans with technology, to achieve the potential gains and acceleration of investigations, a strong trust in the accuracy and reliability of the supporting data is required. While strides have been made in law enforcement data collection, the depth of understanding of what is held may be inhibiting its potential for exploitation. In this series of articles we consider how to gain an assurance of police data from an operational perspective, including:
Data provenance and detection of falsified news: How do investigators and analysts know that the data is coming from a reliable and consistent source, that it's not being deliberately manipulated or accidentally corrupted, and that we're not taking it out of context?
Automation and exploitation: As it's already impossible to manually review all investigation data, what tools are needed to scan, extract and highlight data without missing vital information?
Hindsight: "Suspect was known to police" is a statement regularly heard from many major post-incident reviews. How can investigators assess ALL the data, in real-time, continually?
Proportionality, necessity and ethics: Data collection is likely to be increasingly scrutinised against the public perception of reasonability, how can data use be justified and explained in a clear and consistent manner?
Legislation and Guidance: How to steer a path through the lawful, proportional and necessity requirements for when dealing with the complexities of data collection, storage and use.
With the volumes and complexity of investigatory data increasing, confidence in using it for lawful and proper purposes cannot be understated. Roke's aim is simple: to help make the world a safer and more secure place. With our deep knowledge in sensors, communications, cyber and AI, we are uniquely placed to help use data in ways that keep people safe whilst unlocking value.
This article is the introduction to a series considering how to enable policing and law enforcement agencies to trust their data sources to provide reliable evidence for sound prosecution. Keep an eye out for further articles.
Related news, insights and innovations
Find out more about our cutting-edge expertise.