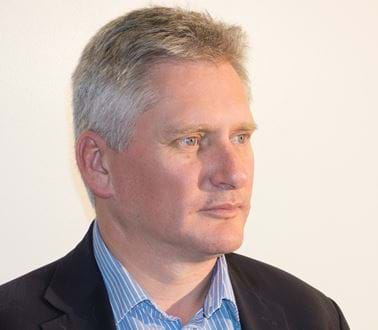 Roke is delighted to announce the appointment of James Luke as Innovation Director with immediate effect. James, who was previously Chief Technology Officer with responsibility for the UK Public Sector within IBM Global Business Services, will focus on driving and further leveraging Roke's world-class expertise to solve customers' most complex problems.
As Roke embarks on the next phase of its growth strategy, James will be responsible for the investment, development and exploitation of the company's innovation activities. He will balance a focus on current customer campaigns with exploratory work to build opportunities, skills and intellectual property for Roke's future. A key focus will be supporting current and future product development in domains including cyber, electronic warfare, electronic countermeasures, agile software and situational awareness technologies.
Paul MacGregor, Managing Director of Roke, commented:
"Innovation is the beating heart of Roke and represents a significant annual investment in order to maintain Roke's leading edge position in science and engineering. James brings both extensive technical knowledge and 25 years' experience leading some of IBM's greatest advances in Artificial Intelligence and cyber. I'm delighted to add such a high calibre engineer to our leadership team and am confident that he will make an extremely valuable contribution to both our strategic roadmap and in opening new horizons."
James brings 25 years' experience delivering artificial intelligence solutions to National Security and Defence clients. He has held several key leadership roles including Chief Architect for IBM Watson Tools and the lead architect for the IBM Text Analytics Group. Prior to joining IBM, he worked for Data Sciences on ballistic missile defence and electronic warfare solutions funded by the US Star Wars programme.
Serving in the Royal Navy, he read for his first degree in Electronic Engineering Systems at the Royal Naval Engineering College (RNEC), working on radar, communications and electronic warfare. After leaving active duty, James worked on data analysis in Formula 1. He completed his PhD, in 2003, with the Image, Speech and Intelligent Systems Group of the University of Southampton, and researched the application of intelligent agents to detect previously unseen computer viruses.
Commenting on his appointment, James said:
"It's an amazing opportunity to join Roke at such an exciting time in its history, and as the business continues to go from strength to strength. Roke has been at the cutting edge of technology for over 60 years and its ability to bring together the physical and digital is unique. As Innovation Director, my role will be to take the exceptional skills and technology that we have to offer and ensure they are applied to make a real difference to people's lives.
"Roke is uniquely positioned with its consulting, engineering and software development skills to bring together intelligent sensors with advanced AI and data science in a cyber-secure way. It's a privilege to be joining such an incredible team."
Roke is a leading UK innovator in science and engineering and for over 60 years has conceived, designed and secured some of the world's most technically advanced data and communications systems for Defence, National Security, the Public Sector and for Fortune 500 companies. Its team of 600+ engineers use their deep knowledge of sensors, communications, cyber and AI to combine and apply these technologies to keep people safe whilst unlocking value.
Related news, insights and innovations
Find out more about our cutting-edge expertise.