We are very proud to receive this prestigious award from the Ministry of Defence (MoD) for our support and continued commitment to the Armed Forces community.
The Employer Recognition Scheme (ERS) Silver Award is the second highest badge of honour presented to organisations that demonstrate their support to the Armed Forces and inspire others to do the same.
As a silver award winner, Roke has shown it actively communicates and upholds a positive stance for employees who are veterans, Reservists and Cadet Force Adult volunteers, as well as spouses and partners of those serving in the Armed Forces.  
The values of the ERS closely align with our mission and culture which is dedicated to combining and applying emerging technologies to keep people safe whilst unlocking value. We signed the Armed Forces Covenant in 2017 and were delighted to receive a Bronze Award in 2018.  We have over 30 employees in our Armed Forces community, and they are supported through a number of policies and initiatives designed to make transition from service personnel to employee as smooth as possible.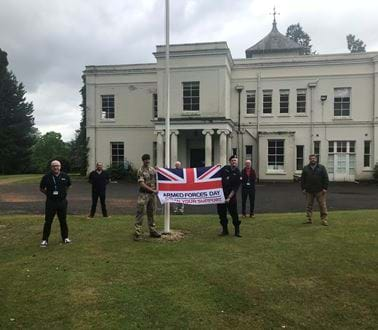 Here are some of the ways we are delivering on our commitments:
An additional fifteen days paid leave to Reservist employees to complete tours
Support for Reservists during times of mobilisation and demobilisation
A sympathetic and flexible approach to requests for leave from service spouses and partners before, during and post operational deployments
Supporting the rehabilitation of wounded, injured and sick service personnel through relationships with charitable organisations and initiatives dedicated to these causes (our current charity is Pilgrim Bandits)
Recruitment of recent service leavers and veterans. All Roke vacancies are listed with the MoD's Career Transition Partnership
A Veterans Network employee resource group open to all employees, regardless of service history and includes non-veterans
Formal recognition of Armed Forces Day and Remembrance Day every year through Senior Leadership Team led events
Submission of numerous nominations for both veterans and Reservists to the Ex-Forces in Business Awards
Acting as an advocate for the Armed Forces Covenant by encouraging and supporting our suppliers and customers to adopt the principles of the Covenant
Providing training on our defence products and capabilities to support Armed Forces training programmes
Paul MacGregor, Managing Director of Roke commented:
"This award means a great deal to Roke and recognises the enormous contribution and commitment that our service men and women make in defence of our country.
"Their considerable leadership, management and engineering skills, honed during military service, strengthen our ability to understand our defence customers' complex operational and technical challenges. These skills are vital to our future success."
Michael Walters, Operations Manager at Roke and military veteran said:
"Like many, I found it a daunting prospect leaving the service after a long career in the British Army. At Roke, all employees have the option of joining our Roke Veterans Network (RVN). The RVN provides a safe landing space for veterans transitioning from the service where 'fitting in' comes naturally, and provides some respite from the stresses of adjusting into the civilian workplace. It is also a place where shared experience helps to drive the success of our business through an intimate understanding of our Defence and National Security customers'."
Minister for Defence People and Veterans, Leo Docherty MP said:
"I would like to thank all of the organisations who have proven their support for the Defence community during such unprecedented and challenging times."
"The vast range of those recognised this year demonstrates how employing the Armed Forces community makes a truly positive and beneficial impact for all employers, regardless of size, sector or location."
We are one of 48 organisations to be awarded Silver in the South East region this year, including NHS trusts, educational institutions, charities, police services, fire & rescue services, councils and a range of private businesses. This year's awardees brings the total number of Silver holders in the south east to 139.
Related news, insights and innovations
Find out more about our cutting-edge expertise.