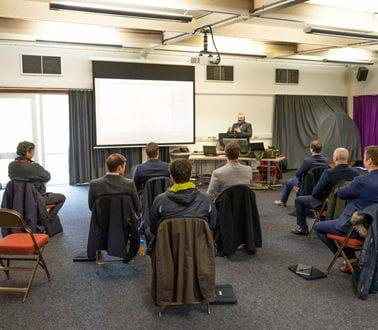 On 11 February, Roke was delighted to host nine members of the Royal Corps of Signals in support of their Yeoman of Signals (Electronic Warfare) (YofS(EW)) course. On completion of the training programme and promotion, members will become capability leaders in military communications and Electronic Warfare (EW).
Also known as The Royal Signals, the Corps is deployed globally, and provides reliable and secure communications to the command elements of every part of the Army, so they can support, control and lead their units and soldiers. The YofS(EW) course runs over 21 weeks, delivering specialist training in Cyber-Electromagnetic Activities (CEMA), specifically EW and Signals Intelligence (EWSI).
Trainees operate a wide range of EWSI systems, computer networks and cyber security. Visits across industry are also a key element of the programme to improve their understanding of emerging technologies. Harnessing innovation also helps soldiers gain an information advantage for current and future operations. At the end of the course, trainees apply their knowledge and industry insights to inform an 8,000 word research project, considering academic, defence and industry perspectives to demonstrate their level of expertise.
During the day, Roke presented key capabilities from its CEMA family of products, including the award-winning RESOLVE, its lightweight Electronic Support (ES) solution, RESOLVE Light and the new PERCEIVE Multi Role (MR) antenna head.
The entire training session was delivered in a COVID-secure way. A risk assessment was used to provide access around the site and equip the facility with appropriate hygiene and social distancing controls, for on-field demonstrations, Teams-based presentations and assessments.
Chris Squier, Roke Defence Director said:
"The threats faced by our military and its allies are changing all the time, and gaining control of the Electromagnetic Spectrum (EMS) is critical in today's data-driven, information-led battlefield. So, it's a privilege to support this important programme for a fifth year, and give all the help and support our soldiers need to excel.
"This year, we're looking forward to demonstrating the dramatic step-changes we've made in hardware updates to existing products, our mission analysis tools VIPER/PREFIX, and our new and ground-breaking PERCEIVE MR capability."
WO1(YofS(EW)) Ben Cowley, course coordinator said:
"Working closely with SMEs within industry is extremely beneficial for our future supervisors, and it's great that many of the Roke team have served in the military and are able to understand key issues from our perspective. Together we're cultivating new approaches to protect the nation and meet every challenge with intelligence and integrity."
More about Roke's CEMA family
Roke's CEMA family of products provide a full end-to-end solution to controlling the multi-domain battlespace. Our capabilities give commanders opportunities to identify and disrupt their adversary's communications, Non-Comms and other targeted emissions. These can then be interpreted as intelligence sources for strategic, tactical and operational decision-making across multiple platforms, from HF to SHF inclusive.
Related news, insights and innovations
Find out more about our cutting-edge expertise.