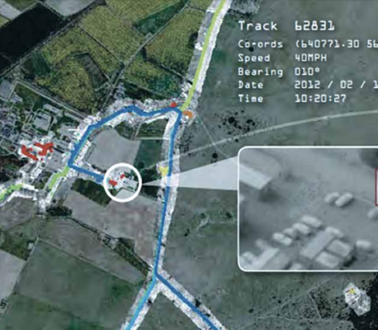 What is VTA? 
Track the movement of target vehicles and personnel in real-time

With data from imagery now so vast, operators can find themselves trying to maintain situational awareness through a deluge of information. We designed an application that reduces operator fatigue by automatically alerting and cueing the movement of vehicles and personnel.
VTA highlights motion and provides an alert, simultaneously referencing as tracks on a map. It eases the exploitation process to an operator and reduces the time taken to generate a useable intelligence product. The system aids in maintaining Information Advantage by assisting operators who are already under pressure, during high tempo operations by making sense of a complex intelligence picture.
Key features & benefits
Tracks moving images
Automatic detection and tracking of moving targets in EO and IR video imagery
Geo-referencing of target tracks and visual mosaic in UTM coordinates
Overlay of target tracks onto visual mosaic, or a preloaded map or satellite image
Image stabilisation to remove platform motion
System integrateable software that maintains situational awareness
Reduce operator fatigue and workload by providing automated alerts on moving targets
Maintain effective situational awareness in near real time
Offered as a plug-in capability for existing exploitation tools such a UAV
Application Programming Interface allows this functionality to be integrated in swift and cost effective manner