What is RESOLVE?
For direction finding and interception
RESOLVE is an integral solution for advancing electronic warfare and surveillance. In an increasingly complex and congested electromagnetic spectrum, the need for a highly accurate and operationally proven system to assist military operations is vital. As the world's leading supplier of EW systems, we have developed the highly successful RESOLVE for the military to locate, find and fix adversaries' positions.
Specifications
Frequency
40MHz intercept bandwith (3 MHz to 3 GHz)
Scalability
Mounted or dismounted configurations
Software
Prefix for laptop or Tacfix for tablet
Compatibility
A wide range of third-party software for reporting and specialist signals analysis
Key benefits
Whole picture
Entire SIGINT picture with wideband geolocation
Lightweight
Easily used as portable manpacks
Effective
User friendly human interfaces
Transitional
Modular system for short, medium and long haul
Mobile
Tablet interface for detailed mobile assessment
Unified
Integrates with latest electronic attack equipment
Secure
Uses IP-based networking effective data-sharing
Versatile
Soldier-portable or vehicle mounted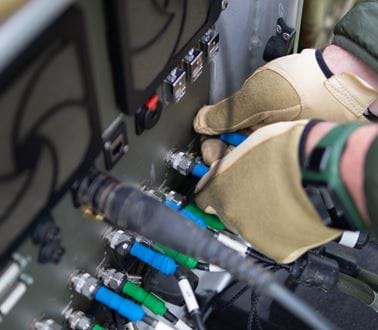 Talk to the experts
Interested in RESOLVE or our world-class EW capabilities? Talk to an expert today.