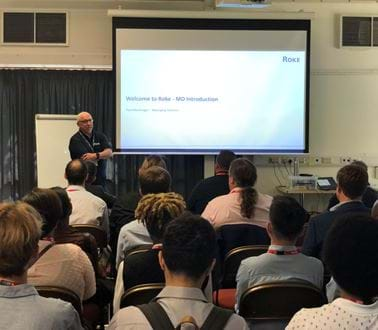 Roke, a leading UK innovator in science and engineering, has launched The Roke Academy as part of its strategy for scalable growth. The business is welcoming 24 new candidates who will embark on an intensive six month programme; the Ignite Development Pathway (IDP). The IDP focuses on life skills and enthusiasm for technology that candidates bring, rather than a straight career path.
In the face of 'the war for talent', the Academy focuses on developing transferable life skills and a passion for technology, rather than benefitting those already qualified for hire, creating an alternate, fully inclusive pathway into employment for those that might otherwise have faced barriers-to-entry.
Targeting the national technical skills gap, The Roke Academy will provide high quality training in key technology areas and the supporting skills needed to deliver it effectively. To demonstrate its commitment to the programme and the value Roke places on its employees, IDP candidates will be salaried Roke employees throughout the programme.
The Academy is designed to be a centre of excellence for learning and development, focusing on non-traditional areas of recruitment to embrace undiscovered talent who may not have previously had the opportunity to enter the technology field. Individuals who have found the traditional recruitment process a challenge, are returning to work after a break, transitioning from military and law enforcement service, or looking for a change of career. Candidate selection also seeks to challenge traditional technology demographics in areas of gender, ethnicity and neurodiversity.
Kick started by three months of software engineering training, learners will then move into a safe project space where the opportunity for positive failure encourages independent learning and working. They will then work on three increasingly complex projects building and finally delivering real world solutions to solve future customer problems. On graduation, learners take on their permanent roles as software engineers.
Paul MacGregor, Managing Director of Roke commented:
"Diversity is a strength, something to be celebrated and we're committed to making Roke an inclusive and equal place where people from all walks of life can thrive and solve the critical problems our customers face."
"The Roke Academy provides the opportunity to attract new candidates who may have faced barriers to work for a variety of reasons. We will support these diverse individuals who can bring unique strengths to our business in terms of creativity, analysis, innovation and leadership to then progress in their chosen field."
Related news, insights and innovations
Find out more about our cutting-edge expertise.