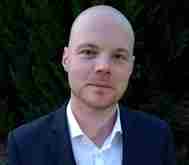 Doug Murray, one of Roke's Principal Consultants, has been placed as Highly Commended in the Business Analyst of Year category in the 2020 UK IT Industry Awards.
The award category celebrates the individuals responsible for the definition of requirements and solutions for improving business processes and systems, reducing their costs, enhancing their sustainability, and quantifying potential business benefits.
Doug was nominated for the award for his work over the last 18 months delivering a £20m critical platform that will help UK policing disrupt and prevent criminal activity. Transitioning from a frontline Police Officer himself into a Business Analyst role, he tackled the challenging project to help design, develop and deliver a software system of national importance.
Said Roke's Public Sector Director, Dr David Butler:
"Doug has been instrumental in delivering this critical client project, and this recognition from the UK IT Industry Awards is thoroughly deserved. Not only has he taken on the role of Business Analyst, but has acted as Business Architect and Product Owner too."