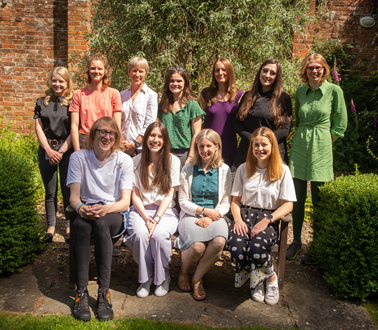 This year's theme of International Women in Engineering Day is Inventors and Innovators – a subject particularly close to our hearts. In the spirit of the day, we caught up with some of our amazing women and non-binary Rokies to talk about their passion for innovation, and celebrate the amazing work they do.
What made you choose a career in the STEM/engineering industry?
Helen, Business Operations Manager: I always enjoyed STEM subjects at school, mainly maths and physics. I was selected for a WISE event while doing my A Levels which took me to Aston University for a week to visit their Engineering Departments and local industries. I then chose a degree in Electrical and Electronic Engineering.
Joanne, HR Apprentice: I wanted to work in an innovative industry with lots of exciting things happening, with a variety of different and interesting people. My experience since joining has been exactly that.
Clancy, Chief People Officer, Chemring Group: I joined Chemring at the end of 2017 having never worked in a manufacturing or engineering business previously. I was excited to work with colleagues whose extraordinary minds, knowledge and innovative approach made a real difference to individuals, communities and to national security. Having never worked in a sector where there is a physical product - and some really complex products at that - there is a real excitement about what we do.
Colette, Graduate Engineer: I grew up playing with Lego and watching Scrapheap Challenge and How It's Made on TV. I've always loved understanding how things work! Before choosing my A-levels a woman came to speak at our school about her career as a chemical engineer and I remember thinking, maybe I could do something like that.
Susan, Consultant Engineer: I chose engineering as I loved maths and sciences at school. I had a great physics teacher who ran electronics GCSE, and two maths teachers who went well beyond their day job to encourage the keen ones. I feel fortunate that despite attending a language-specialist girl's school, I was supported and encouraged in finding my own path.
Jennifer, Consultant Engineer: I studied Physics at university and really enjoyed the subject matter and problem solving, but I wasn't sure I wanted to go into academia long term. I tried out a summer placement at Roke to see how engineering felt, and after 8 weeks of learning Matlab and using my Physics knowledge on a real project, I was hooked. I'd applied for a graduate position before I'd even finished the summer!
What do you enjoy most about your job?
Debbie, Bid Manager: I love working with lots of different teams, all focussed on a specific goal, made up of the best minds in the country bidding for extraordinary projects that really make a difference.
Clancy: Working with such a wide variety of colleagues. Chemring is truly diverse in terms of the roles we have and the colleagues we employ. Every day I learn something new about what we do, the people who make up our business and the future opportunities and that is exciting.
Colette: My favourite part of being an engineer is the variety of different projects and industries you can be involved in throughout your career. The skills you develop are so transferrable, too.
Sam, Resource Manager: The people - as a business we face an array of challenges, but the people at Roke are what makes it enjoyable for me. Even during difficult times, we can come together to find resource solutions for delivery teams to support important customer missions.
Jennifer: As a technical lead on a project team I enjoy problem solving the most. Some of the time this is breaking down the technical details of a customer requirement and finding an innovative solution with my team, and sometimes this is about setting up the right people with the tools and contacts they need to work together and get things done - either within the project team or across Roke.
Emily, Resource Business Partner: My favourite thing about my job is being able to interact with a range of people, who are passionate about what they do and want to make a difference.
What is a common misconception about being a woman or non-binary individual in the engineering industry?
Colette: There's a common misconception that women in the engineering industry are always in a minority. Whilst there is still some way to go on this, it has definitely improved. I'm a huge advocate for finding good role models and mentors to remind you that you can do anything you set your mind to.
Nicola, Business Analyst: I feel like a misconception about engineering is that you must have a computer science degree. I wish I'd known earlier in my working career that this wasn't always the case!
Joanne, HR Apprentice: Everyone's experiences are very different, and we can't ignore instances where women and non-binary individuals have been treated differently, excluded or discriminated against - it would be naïve to say that this never happens. However, I am pleased to say that my experience since joining the industry has been nothing but positive in this regard, and I have not felt that I have been treated differently because of my gender.
Emily: A common misconception in the industry is you can't be an engineer and raise a family - many of my co-workers have their own families and continue to be amazing at what they do, pushing themselves every day.
Abigiya, Graduate Engineer: A common misconception about being a woman/non-binary person in the engineering industry is that you are less capable or more likely to struggle in the industry because engineering is more suited towards men (which is far from the truth!)
Denise, Technical Consultant: That we don't exist, there are definitely lots of women and non-binary people in engineering, and hopefully we can raise their visibility.
What piece of advice would you give to a young person interested in a STEM career?
Lauren, Senior Marketing Executive: Look into the areas of STEM that interest you and see if you're passionate and excited about them. If so, go full-steam ahead, you won't regret being in a world with so much development.
Rose, Consultant: It's a really valuable career to get involved in, there are many opportunities to make a difference within this field. Different perspectives and different ways of viewing the world are greatly needed in this industry.
Emily: The best advice I've been given; slow down and take time to process. It's okay not to know everything, take some time to think about your challenge and discuss it with your peers to effectively solve it.
Helen: Take every opportunity available to you and always do your best. The utopian goal is to find something you're good at, that you enjoy and that someone will pay you money to do.
Nicola: Start with a company who is prepared to offer you the chance to try lots of different areas of engineering. It is so varied that you will definitely find a niche and something which captures your interest.
Hannah, Resource Business Partner: Go for it! It's varied and interesting work. Be confident in your skills and potential.
What is one thing that you would like to improve about the industry?
Lauren: It's easy to say being more inclusive of women, which is true. However, more involvement with children and teens would be my improvement. I don't feel girls and young women are given enough information about engineering careers in the early stages of education.
Debbie: I think the growth in apprentices and programmes bringing in young people is great news, let's continue to assist the next generation to develop through on-the-job training, coaching alongside formal teaching.
Joanne: Things are moving in the right direction in terms of diversity, equality and inclusion, but things can always be better and should always be improving.
Abigiya: Even though it's improving, minority ethnic (especially women of colour) representation is still low in tech. This can be quite daunting when looking at roles in STEM. Some friends about to start engineering grad roles have questioned whether they'll fit in (due to negative experiences in a predominantly white school environment). We can tackle this by promoting diversity and inclusion in the workplace, and encouraging minority ethnic employees to speak out about their work environment so they know someone's listening.
Megan, Data Science Engineer: I'd like the industry to become more accessible to women and remove the stigmas that young girls face when considering pursuing STEM subjects.
Helen: Remove the glass ceiling!
Related news, insights and innovations
Find out more about our cutting-edge expertise.