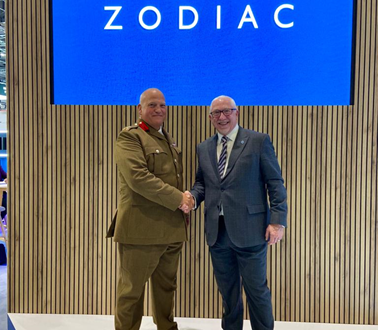 12 September 2023 – Roke, a UK based Prime Contractor, today confirmed it has signed a £40m contract to deliver the next two years of Project ZODIAC for the British Army. ZODIAC is the backbone of the Army's Land ISTAR Programme, and will deliver an integrated Intelligence, Surveillance, Target Acquisition, and Reconnaissance (ISTAR) system, which will transform how the Army undertakes data-led decision making in the Land environment to gain operational advantage.
As the Prime Systems Integrator for the project, Roke will integrate sensors, deciders and effector systems to deliver a Minimum Viable Product (MVP) ISTAR system that will operate in the Degraded, Denied, Intermittent and Limited-Bandwidth (DDIL) communications environment of the modern battlefield. Through an Agile delivery approach, with development informed by user engagement and training exercises, ZODIAC will provide an integrated and distributed system of applications and underlying system architecture that will enable the Army to understand, decide and act with greater precision and speed and digitally integrate with key allied partners. The system will be complemented by a software and data DevSecOps pipeline to enable rapid enhancement, long term system evolution and the management of pre/post mission data loads. This pipeline will be key to transforming how the Army operates.
Aligning with the goals set out in the most recent MoD's Defence Command Paper, Roke's work on this project will be integral to digitalising the Army's Sensor-Decider-Effector chain, contributing to faster decision-making, lower cognitive burden on operators, and more efficient use of the Army's resources. ZODIAC will provide the platform for the introduction of artificial intelligence (AI) into the Army's ISTAR processes, increasing the quality of decision-making and speeding up the tempo of operations. ZODIAC will contribute to the UK MoD's objective of achieving Digital Deterrence: realising a strategic deterrence effect through digital advantage.
Roke will work closely with a trusted consortium of industry partners comprising 6point6, General Dynamics Mission Systems – United Kingdom, Nexor, QinetiQ, and Sierra Nevada Corporation Mission Systems UK Ltd, to advance the ZODIAC project, ensuring that the Army can take advantage of industry's foremost technical capabilities on a continuous and enduring basis.
Paul MacGregor, Managing Director of Roke said:
"Roke is proud to be leading this important and bold transformation in support of the defence of our nation. ZODIAC will pioneer the use of next generation technologies, empowering and better protecting the British Army to think and act faster than our adversaries."
"Innovation is the catalyst for everything we do. From harnessing our significant knowledge in physical sensors and communication systems to embedding new architectures and processing at the edge, drawing on our expertise in data fusion, machine learning and autonomy."
Brigadier Pete Drew, Land ISTAR SRO said:
"I am delighted to be working with ROKE as, together, we drive the digitalisation of ISTAR, through the networking of sensors and the delivery of an ISTAR C2 and Fusion system. This ISTAR system will integrate the SENSE-DECIDE-EFFECT process, increasing the British Army's lethality and survivability within a combined, joint and multi-domain context."
"Working in collaboration with ROKE and their trusted consortium, the integrated team will deliver the core of the Land ISTAR programme that will move us toward a fully digitalised environment exploiting automation, machine learning and artificial intelligence, enhancing decision advantage for the British Army."
Related news, insights and innovations
Find out more about our cutting-edge expertise.