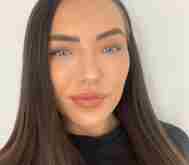 Roke meets
Victoria
Meet Victoria. As a Principal Consultant in our Futures business unit, she focuses on how we can provide our customers with the best experience possible throughout their journey with Roke. We caught up with her to chat about her rapid rise to success at Roke over the last four years, what she loves about working here, and why the perception of our 'brand' is critical.
What did you do before joining Roke?
Before Roke I studied Business and Management at university as I wasn't sure what I wanted to do long-term – all I knew was that I wanted to work with people. I had a few customer-facing roles throughout college and university where I loved helping others and completed a management graduate scheme before discovering Roke.
The people. We have a people-first culture where 'Rokies' will go out of their way to help clients and colleagues. I am a big believer in that you should be happy at work and if I didn't work with such great people, I wouldn't have been here for the last four years. We truly live by our Roke behaviours.
I've recently been promoted to Principal Consultant and become the User Experience (UX)/Customer Experience (CX) capability lead for our Futures business unit. As futures is at the relatively early stages of this capability, my role is to lead the team to grow and deploy UX/CX. Day-to-day, I typically uncover meaningful user insights which could be applied across the organisation or specifically on a product or service. These insights are then communicated back to stakeholders in a way that enables positive change for the end-users.
The most important thing to remember is that the people building the products are rarely the users, therefore measuring the user perspective throughout (for example, through frequent iterative testing) ensures they have a genuinely positive experience. The ambition of UX/CX is not just to be functional but to delight. After all, what is the point of a product or service if the end-user does not want to use it?
How does the Futures team apply its skills to serve our customers?
We enable complex digital systems to deliver real benefits to their users and stakeholders. We have a wide range of skills across the Futures business unit, cutting across both technical and soft skills. If there is something we cannot do, we know someone in the business that can. We are constantly looking at our skill sets and the market to ensure we are keeping up and developing our offerings to be the best they can be. Not only do we develop ourselves constantly, but we also share those skills with our clients so that they are empowered too.
What changes are coming up that you think will impact the needs of our customers and how can we help?
With everything that has gone on in the last few years, people are valuing their time more than ever; customers now have more choice too, so their perception of 'brand' is critical. At any point within their journey of interactions with an organisation there is the power to exceed or destroy their feelings towards your product, service, and brand. Our work removes pain points and finds and exploits opportunities to increase satisfaction and engagement.
How has Roke supported your career so far?
Roke has provided me with several opportunities and even though they seemed daunting at first, the company empowered me to grow as a person both professionally and personally. A big part of that is because Roke pushed and supported me to step outside of my comfort zone. My development is definitely not over yet, but I am in a position now that I would never have envisioned when I first started.
What do you do to unwind when you're not working?
When not working, I enjoy eating a lot of food and getting my endorphins at the gym. I also enjoy reading, especially self-help books and also UX/CX specific books as the more I can learn the better I can be in my role – that gives me a buzz.