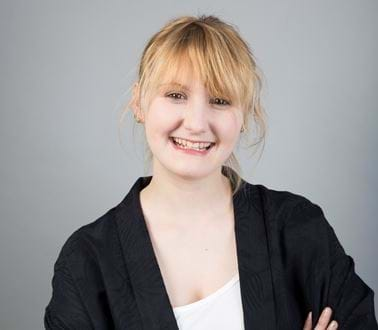 Roke meets
Poppy
Poppy is on an administration apprenticeship at Roke, and here she chats to us about her apprenticeship and how she's relished the opportunity to learn while on the job.
What were your career plans before joining Roke?
I didn't really know what I wanted to do after college, but had studied a lot of business subjects and decided that an administration apprenticeship would be a good way of developing skills in working and applying my knowledge, whilst continuing to learn at the same time.
I'm coming to the end of my apprenticeship, so would like to develop as an administrator and work towards becoming a senior administrator in the future.
What is the best thing about working for Roke?
For me, the best thing about working at Roke are the people. Everyone is kind and friendly and always willing to help if you're stuck. My team are all lovely people who have been extremely supportive throughout my apprenticeship and have been key in helping me with both personal and professional development.
What have you learnt since you started?
I've learnt a lot since I started as this was my first office-based role. I've learnt how to become more confident with new people and my communication with others has improved. I've also learnt the importance of organisation and making sure information can easily be found.
Do you feel supported in your role?
My team has helped with professional and personal development, helping me improve my skills and always answering any questions that I have. I've also been offered the opportunity to support and work in other departments within Roke to achieve my 20% off the job learning and to see how different departments operate.