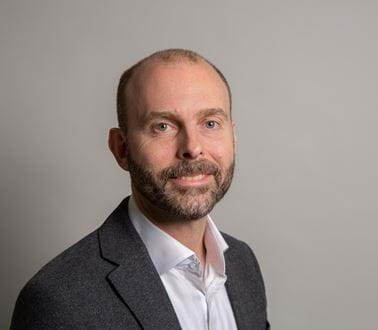 Roke meets 
Neil
Neil is our Futures Business Unit Director. Neil has held a number of senior roles at large organisations and is working with his team to take on the challenges of digitalisation and transformation by becoming a key technology partner to their customers.
What brought you to Roke? 
I'd worked in big corporate organisations on major government contracts and I wanted a new challenge. The Futures team has capabilities that are absolutely world-class. This role is all about scaling up and taking those incredible skills, knowledge and expertise into more businesses and new sectors; when I saw it, I knew it was exactly what I'd been looking for.
What does the Futures team do? 
Every customer and project is different, but you can sum it up as 'first, fast or difficult'. We can do things that have never been done before, we can deliver them extremely rapidly, and we focus on the really hard stuff; the complex problems customers can't solve themselves. Ultimately, it's all about using technology and digitalisation to generate efficiencies and improving the customer's bottom line. And as well as opening up digital doorways, we put cyber resilience in place to make sure they close securely, too.
How would you describe the team? 
We're a technology partner, a nucleus of energy, technology and intellect that customers can plug into to scale up their digitalisation and cyber security to transform their own capabilities.
What kind of customers are you looking for? 
We want to talk to people who've spotted an opportunity to innovate, to develop new products or services, who want to secure their business in a digital world, or to simply harness digitalisation to save costs or increase efficiencies to improve their business, and they need a technology partner to help make it happen. They could be in any industrial sector – manufacturing, rail, aerospace, automotive, energy, telecomms or healthcare – and they'll be ambitious.
How do you see the team's future development? 
I believe Roke's philosophy of bringing the physical and digital worlds together applies to all businesses. Digitalisation is happening everywhere: this is Industry 4.0, the new industrial revolution based on connectivity and automation driving up productivity, and our skills and technology are exactly what's needed to enable this, as well as protect it. We have a fantastic heritage in innovation and some great customers: now, we're building the team, strategy and entrepreneurial mind-set to really scale things up.