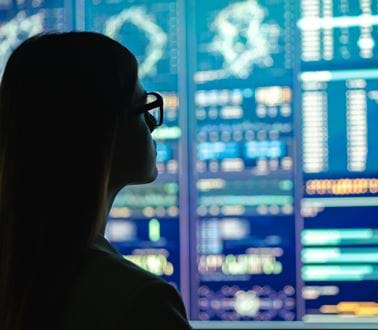 Life at Roke
Supporting critical customer missions
As a trusted partner to UK government, we're researching, designing and building solutions to keep people safe so that we protect our liberties and prosperity. Supporting the Government's mission often involves complex, technically challenging and ultimately hugely rewarding work. Many of our Rokies have specialist capabilities and are required to have specific security clearance to work efficiently and securely on sensitive projects and systems.
Wherever our employees work, we're also accelerating our own digital transformation to foster greater collaboration, flexibility and wellbeing. Whilst many of our teams switched to home-working during the pandemic, some colleagues remained on-site throughout in support of our customer's critical missions.
We caught up with Kevin* and Julia*, two Rokies who shared more about their recent experience.
*Names have been changed for security purposes
How has it been working on-site during the COVID pandemic?
Kevin: Roke takes the safety of employees working on-site extremely seriously. Measures include placing restrictions on maximum room occupancy, wearing face coverings, and ensuring sanitisation products are available in every room.
Julia: I've really enjoyed remaining on-site as I'm still able to communicate with a few colleagues safely face-to-face. I've seen a lot of effort go into making the environment safe on-site for employees, from the hygiene stations dotted around, to the additional work the cleaning team have taken on.
How do you apply your capabilities to Roke projects?
Kevin: I joined Roke in 2019 with a background in software reverse engineering, hardware testing and evaluation, Matlab modelling and technical leadership. I've applied most of these skills to the various projects that I've worked on, and have developed my knowledge in new areas such as computer networks and mobile applications.
Julia: I started off with a generic computing degree spread across networking, application and web development, the use of SQL and databases and system architecture. As I went through my degree and placement year, I focused more on cyber and information assurance, human factors, UX and UI design and requirements engineering. What excites me most, is the application of combining psychology and technology. Recently, I've looked at human and behavioural sciences and what we can learn through linguistic and interaction analysis, as well as our digital footprints and how digital forensics can reveal some of this.
What does a typical day at work look like for you?
Kevin: On one project I lead a team of four engineers undertaking digital forensics and network traffic analysis. We have a "stand-up" meeting every morning so the team can share what they are working on and if anything is blocking progress. I occasionally take on some of the digital forensics and network traffic analysis myself, but the majority of my time on the project is spent reviewing the analysis and technical reports produced by my team. I then make suggestions on additional analysis to be performed or amendments to the report prior to release to the customer. On a weekly basis, I attend a secure virtual meeting with the customer to capture feedback and receive direction for new tasking.
Julia: I work on-site currently within a small team of engineers. Our office is quite a calm environment and we have a good team dynamic, and often bounce ideas off each other. I'm really enjoying the variation in technology we're using and how it progresses. Understanding how particular applications work and where their shortfalls are from a security perspective is a big part of the work – it's a bit like a technology-based Easter egg hunt!
How has Roke supported your career development?
Kevin: Roke has supported me in a number of training courses to develop my technical and leadership skills. These included; Agile Methodologies, Certified Information Systems Security Professional (CISSP) and software reverse engineering.
Julia: The flexibility of my role at Roke has allowed me to shape my path of progression. I've worked on innovation projects, where I've been able to suggest areas of research and progress my knowledge into a particular area, such as behavioural analytics. My project roles have been suggested to me by matching my skills and interest against work we have available. I couldn't ask for more.
What do you enjoy most about working at Roke?
Kevin: The project diversity. From testing the effectiveness of phone cases that block out audio signals, to research into systems that protect cars against cyber threats, no day at Roke is the same!
Julia: The variation in the project work I've done in the past three years has been awesome. It's allowed me to gain a broader knowledge in the areas we work within as well as the technologies we use and create. Secondly, the people. I've always felt there's been a strong sense of community within Roke, as well as encouragement to help each other. That for me is vital. 
How do you find working in Romsey?
Kevin: The Romsey site is beautiful with its gardens and orchard. It makes going for a walk to get your daily exercise much more scenic!
Julia: I really like Romsey, I moved here about five months ago, as I thought I deserved a break from commuting almost an hour each way every day. It now takes me less than 10 minutes to get to work. As a town it's definitely in a good position – it's close to Southampton, Bournemouth and the M3.