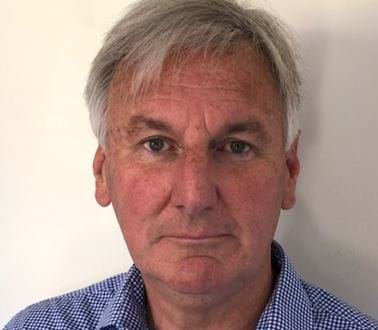 Roke meets
Jim
Jim joined Roke in 2019 – and having waited over 28 years to do so, it must go down as the lengthiest ever recruitment process!
How has your first year been? 
The last 12 months have been a tremendously satisfying time. I've met and worked with forward thinking people from across the business with an infectious enthusiasm for their job, their projects and their vision for doing the right things right. Moreover, it's been a privilege and distinct honour to mentor and coach a few of our younger employees and I've found the learning experience to be a wholly two-way street. Seeing colleagues develop in their roles at Roke and occasionally their personal lives brings me real job satisfaction.

I joined around the same time as our MD, Paul MacGregor, and my own Director Dr David Butler, when colleagues were re-assessing our vision and supporting a gentle steer for change. It's an exciting journey to be part of that is bringing us closer to customers and other organisations, and I believe it will help us to reach out in the manner we are known for: inquisitively, supportively, credibly and most importantly, innovatively.
Tell us a bit more about your career before joining Roke  
I bring 30 years' service in the disciplined and rank conscious world of policing, from where I retired as a senior officer in 2012. After taking a year out, I joined Hewlett Packard Enterprise Service and, at first, found the venture into the private sector, completely alien. It was a huge departure from the sense of duty, orders being given and taken, and urgent delivery assumed, tenets that I was used to and still hold dear as personal traits to this day. But a salesforce.com and PRINCE2 course down the line, I felt as though I was contributing in my new role and adding some value with my own particular focus on the Emergency Services Mobile Communications Programme (ESMCP).

I came to Roke in April 2019. This is a company that genuinely holds its employees close and looks to develop them not just for corporate gain but personal standing too. From new start graduates and apprentices to Directors, there is a strong desire to work together and individually towards a common aim, while building self expression.  It promotes a culture with a sense of belonging coupled with a recognition that personal development is important in the wider world. When I left the policing world, I identified a huge sense of loss in belonging to something, which I've addressed in my role as President of the Retired Police Officers' Association Scotland with 6,500 members and all their families. I've seen the strength that a feeling of belonging gives to people, to do their bit and learn from those around them, just as we do in Roke. Subliminally, it nurtures our ability to innovate and take on challenges - something that Roke seeks out to do with relish.

Innovation is core to what we stand for. This part of our business dovetails with my former role as Strategic Police Advisor in the Home Office's PSDB/HOSDB/CAS. Here I had responsibility for counter terrorism, serious and organised crime and physical security through to my allocated one-day per week in HP.


What does your current role consist of? 
As a consultant, I work with new team members ranging from talented and intelligent university and college graduates, to industry seasoned people offering a wealth of subject matter expertise and real world knowledge. As problem-solvers, it enables us to share experiences and take our place, credibly, when working with customers. By way of example, I was recently assigned to project work in the Home Office OSCT.  I enjoyed being back with people I had previously worked alongside, during my role as a seconded police officer, who were now seniors in the civil service. Their open observation of us 'Rokies' is of a group who; 'get stuck in, identify what the challenges are and set about fixing the problems'. You often hear comments that Roke colleagues 'work well as a team and learn from each other and those around them,' and, 'are a pleasure to work with as they engage with us and socialise in a proper way.' These are big and strong statements that speak volumes about Roke and what we bring to their party (and we do often get invited to their parties!).

I'm often asked by colleagues what I've found are the main differences from working here compared to policing. The obvious difference is in comparing a disciplined service to a private sector organisation. By that I mean operational, public perception policing is generally there to serve a scenario-based task that changes incident to incident. I used to tell my officers that on arrival at an incident they became actors, performing the role-play required at that critical time. It could be the sympathetic support when delivering sad news to a family, or being the hardened, detached individual dealing with multiple deaths/murders and bodies, like we did at Lockerbie. Or it could be the happy rejoicing soul when seeing a new baby for the first time walking on your beat or a wedding of local folks.

Officers perform these roles at a particular time in people's lives, despite what they may be feeling inside. There's no other industry like it – hence the unbridled, affection and warmth we're understandably seeing for 3ES colleagues in the NHS right now.  My experience of industry and Roke is that the focus is on tangible, hard deliveries, of 'stuff.' Forget profits and margins for the moment as, inter-alia, they are what makes business survive and grow. The satisfaction is that I'm now part of a world where we provide things or services that are costed and can also be used to make life better for us all, and it's there the convergence with policing comes alive.
As a former Director of the International Association of Bomb Technicians and Investigators, a US-based organisation with 72 nations represented, I am pleased that Roke is part of the Chemring family which looks at this particular space more closely. Roke is seeking out new international customers, and I look forward to helping and supporting, where I can, that area of our business develop.

This has been a marvellous year for me. When I first came across Roke in the late 80's, I always said I would really like to work for the business. So it was telling when I was approached by a recruitment company, in early 2019, to ask if I'd like to be put forward as a candidate for two companies, 'a well-known engineering consultancy and this other company, that I may not have heard of, called Roke,' my immediate reaction was to ask them to put ALL their energies into getting me an interview at Roke. And here I am!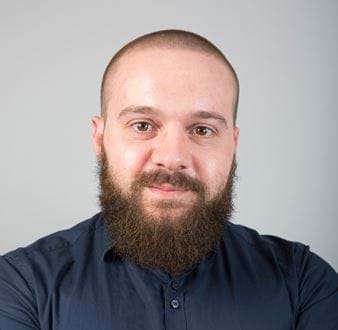 After leaving the Army Reserves, Mark shares how his journey from infantry soldier to postgraduate, and how his desire for working in cyber security has led to a satisfying career at Roke.
Find out more