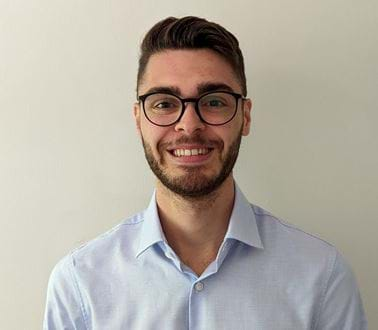 Roke meets
Jamie
Meet Jamie, a Senior Consultant in our Futures business unit. We chatted about how he's applying his background in physics to his client-facing work at Roke, and his love of the beautiful game.
What did you do before joining Roke?
I studied physics at university and have always been curious about why things work the way they do. I enjoyed the problem solving aspect of my degree and for my fourth year project, I used machine learning techniques to identify and classify astrophysical signals from radio pulsars. This was my first experience of using machine learning to solve real-world problems and it inspired me to look for jobs where I could continue to apply my technical skills to solve problems.
I was initially drawn to Roke because of the opportunities to work on cutting-edge technology and innovation. However, at my assessment centre, the culture and people strengths really sold the company to me. My interview didn't feel like an interview; it was a conversation with people who genuinely cared about their work, their colleagues and what I could bring to the team. This is what I always tell people; it's a place where you have a voice, colleagues are willing to listen and support you and your ideas.
When it comes to client-facing projects, I work as a Senior Consultant in our Futures business unit, often as a technical business analyst or as a data scientist. I've really enjoyed supporting the development of our graduate development programme too, particularly graduates joining our Consulting and Systems Engineering profession. Having come through the programme, myself, I was keen to support new colleagues and share my experiences and development tips.
What is a typical day like for you?
The day usually starts with a client call to work out our priorities for the next few days. This is followed by a morning of research or code development. Research involves a variety of things from open source research to exploring and visualising data sets. In the afternoon I tend to have engagements on behalf of the client, usually with their partners or experts on the particular area I'm researching.
How does the Futures team apply its skills to serve our customers?
We engage directly with our clients, helping to assess their current capabilities. We work together to identify future needs and determine gaps to be addressed. We provide that critical translation of their business and technology needs into requirements that developers can implement. Our clients value the blend of technical understanding and soft skills we bring, helping them strategically address their most important challenges.
What changes are coming up that you think will impact the needs of our customers and how can we help?
Growing volume and complexity of data is almost certain to impact all aspects of life over the coming decades. Our clients need to understand the threats and opportunities this proliferation of data has for their missions. They need to know how to store, manage and utilise this data in a lawful and ethical manner. We provide technical consultancy to help our clients understand these challenges and design strategic responses.
How has Roke supported your career so far?
There are very few other places where early careers professionals have an opportunity to work autonomously in client facing roles. This real-world consulting experience has been invaluable and is something that no amount of training courses can achieve. I've been supported throughout by experienced colleagues, all generously offering their time to help me make the most of this unique time.
What's the best thing about working at Roke?
Two things: the people and the variety of work. There is a real sense of community here. People not only listen to your new ideas but are excited to help you develop them, and suggest ways to overcome any challenges that you may face. The wide variety of project opportunities is the other best bit. I've worked across three of Roke's client domains in technical and non-technical roles. This flexibility is invaluable and has given me the chance to experience different types of work, which really helps me focus on where I want to go with my career.
What do you do to unwind when you're not working?
I really enjoy playing football. I've always found physical exercise a great way to unwind. I played for the university team for four years and have continued playing with that same group of friends even after graduating. Roke also has a weekly five-a-side which means you meet people from across the company who share an interest in sport.
Angharad, Head of Profession for our data science profession, discusses her career in the industry and the groundbreaking work her team are doing everyday.
Find out more
Aashish, our Innovation Leader, explains how his love of tech and sci-fi movies inspired him to take a career in engineering.
Find out more