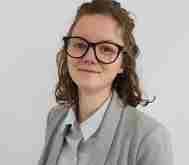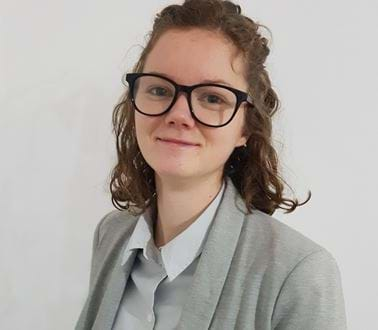 Roke meets
Charlotte
Charlotte is one of our Graduate Engineers working on our Defence projects. We caught up with her to find out how she's using her degree in physics to work at the forefront of the culmination of cyber security and quantum mechanics, and how our Cyber Launchpad programme is kick-starting her career.
What were your career plans before joining Roke?
I studied physics at university, although at the time I didn't know what career path I wanted to take, but I soon became passionate about quantum mechanics. My final year research project involved looking into quantum entanglement within small systems of electrons. This meant working with large matrices which couldn't be solved by hand, and that's when I created my first piece of software in Python. Whilst creating this, I realised I loved solving the problems that came about from programming, and decided I wanted to go into a career that involved programming and problem solving. I chose cyber security because I thought it fit both of those requirements perfectly.
I chose Roke because I wanted to work for a company that invested in its employees and recognised their potential. I was keen to get into the cyber security field but didn't have the qualifications to support me. Roke was open to employing people from all backgrounds, and the graduate scheme provided me with the opportunity to make this career transition.
You've joined our Cyber Launchpad. Please tell us about the programme and what you've learned so far.
The Cyber Launchpad has been a really exciting adventure so far. Having studied physics, everything is new to me, and I love that I have the opportunity to learn from people already working within these fields. Building on Roke's technical foundation course, I have learnt how to program in C and carried out software reverse engineering. Within the next few weeks I'll be learning C++ and digital forensics. After this has been completed, I will be placed onto a project where I will use the skills I have learnt, whilst being supported by colleagues and receiving further training until completion.
Tell us about the tasks you've worked on so far
Most recently, I've been investigating how quantum communications will affect law enforcement. I enjoyed working on this because I got to use my knowledge of quantum mechanics, whilst learning about how law enforcement works to keeps us safe, and the challenges they face. I'm looking forward to working on some larger projects in the near future.
What is the best thing about working for Roke?
Everybody is so friendly and approachable. Starting a new job online is a strange feeling, but my colleagues have been very welcoming. Everybody seems to have the mentality that no question is a silly question – which is something I love!
Where would you like to take your career?
I'd like to eventually work with quantum technology in some way. I really enjoyed studying quantum mechanics and being at the forefront of science during my research project at university. I think there will be a time in the near future where cyber security and quantum mechanics will have to come together, and I hope to be involved in a team working on the problems that will arise because of this.