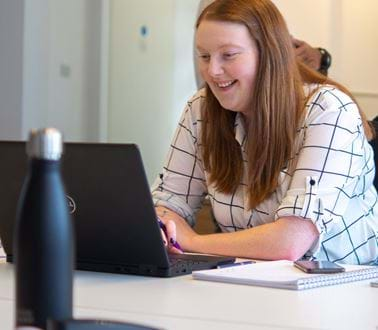 Roke meets
Bethan
Bethan is one of our graduate engineers, with a more unique career journey - transferring from marine biology to AI and machine learning. We caught up with her to find out how she's using her maritime and oceanographic background to help understand and tackle the problems our customers need solving.
How long have you been interested in working in STEM and engineering?
I've always been interested in science and I chose to study marine biology at university. When I came to do my dissertation I was so frustrated by the lack of technology available to us as student marine biologists – everything had to be done manually. I spent wakes counting specific species of fish on a video feed! I thought, 'there must be a better way of doing this?'
Fortunately, a lot of my friends at university were doing robotics and computer science, and they created an algorithm that could do the counting for us, and taught me how to do it too. Frustrations in this area were the reason I went from marine biology to engineering. I wanted to know how we could move robotics and computer science into other areas where they can be useful too.
You studied marine biology and oceanography, so moving into AI and machine learning as a career seems a bit of a left field choice, how do the subject areas cross over?
A lot of it was asking questions! I self-taught myself multiple programming languages just by taking tutorials online too. I also worked at a market research company before joining Roke. There I had to learn another programming language in order to understand and work with a lot of complex logic behaviour in the surveys.
Translating my experience to AI and machine learning has been challenging but rewarding. My first project at Roke involved reinforcement learning which I didn't know how to do, so it resulted in a lot of Googling and learning as I went – which I loved.
Where would you like to take your career here?
I love working with customers to solve their problems. They come to us to solve a problem, but I like looking beyond that at the wider picture to see if that's really where they need our help, or if we can add more value elsewhere. So, I'd love to continue to work more closely with customers, going to their sites and working with them on their projects and seeing what they do.
I'd also like to continue to work on my own technical ability. In the future it would be great to go and work alongside academia again and bring the tech and skills I've learnt back into it to support the next generation of biologists, scientists and engineers. I think it's important that we make sure students have the resources they need. There's no point in spending an extraordinary amount of time counting a particular type of fish if a machine could do it in the background and leave you to work on more important things.