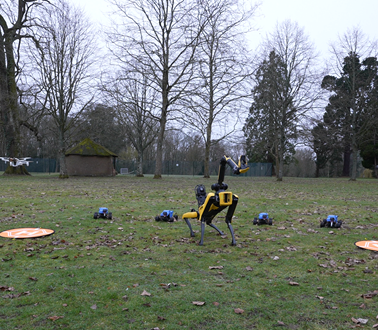 Scaling up for the future
What does the future of autonomy look like? We see a tension between different models of uncrewed vehicles: high-value, high-capability singletons vs commoditised systems at massive scale. This paper makes the argument for robots at scale and digs into some of the surprising reasons why that's hard to achieve. We consider not just scale in terms of numbers, but increasing levels of autonomy, co-operation and system complexity. We're sharing our vision, the benefits and the challenges, to encourage collaboration and realise the potential that we can see. The future of autonomy is unlimited.
Hear from the experts
Imagine you're the operator. Choose a mission. It could be surveying a large area, searching an urban disaster zone, or a military surveillance mission. Something spread over a wide area and probably hostile to people. Give yourself a deadline - you're looking for a survivor or another mission depends on this - time matters. You're going to use uncrewed autonomous vehicles - robots - to meet the mission goal.
In this paper we explore what it means to operate robots at scale. First, we'll look at this from the perspective of the operator, to understand what's difficult. Then we'll see how we can provide solutions to these challenges.
The team explain more in this short video.
Download the full whitepaper
For a deeper look at robots at scale, read our in-depth paper. We cover the following areas:
The future of robot deployments
Management of robots in challenging environments
Emergent behaviours of intelligent, collaborative, large-scale robotics
Sustainable operation
Our response to robots at scale
Related news, insights and innovations
Find out more about our cutting-edge expertise.