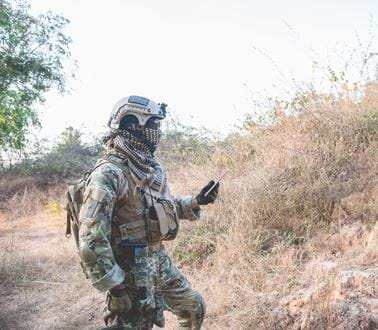 The Challenge
Modern complex military operations demonstrate that it's critical for dismounted soldiers to have access to an increasing amount of information to operate effectively. Information must be accurate, up-to-date and shared quickly to provide advanced situational awareness (SA) and improved intelligence. The systems that deliver this SA must also be adaptable and configurable, while placing minimal cognitive and physical burden on the user. Developing systems, like CC1, that both leverage significant investments in commercial smart phone technologies, and deliver the resilience and security required for the military user, is a critical enabler to mission success.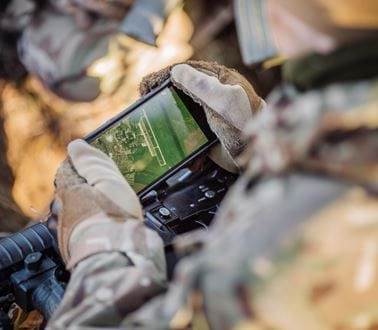 The Approach
Building upon extensive insights from years of defence research and our expertise involving on-the-soldier system integration, we designed a new technology-driven Dismounted Situational Awareness (DSA) system tailored to the dismounted close combat soldier. Implementing a User Centric Design (UCD) methodology, this solution supports the missions of our customers, providing opportunities for them to influence the design and provides rapid feedback to accelerate the process. By partnering with a network of developers and equipment suppliers, our approach enables us to combine our in-depth understanding of the military environment with the best-in-class commercial-off-the-shelf-technology (COTS). We have developed a secure, lightweight and accurate DSA system that is coherent with the wider tactical information architecture. Ongoing integration with future sensors and information systems is also incorporated due to the modular system architecture which is accreditable for the processing, distribution and storage of information.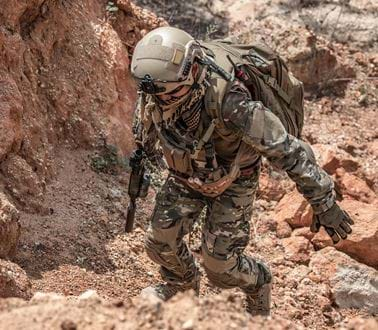 THE OUTCOME
Our DSA solutions are now sold internationally. As a result, dismounted soldiers have access to real-time information to make decisions quicker with increased SA. The system is presented in an easy-to-assimilate manner, with low whole-life-cost of ownership ensuring the capability remains evergreen and keeps pace with advances in technology and the threat posed by adversaries. To support this evolutionary development, we have established an ecosystem around our DSA solution, facilitating the sourcing of new capability, from app-developers to manufacturers of key components. Through this approach, we balance the art of the possible with the demands of an ever-changing, complex, dismounted operational environment.
Related news, insights and innovations
Find out more about our cutting-edge expertise.