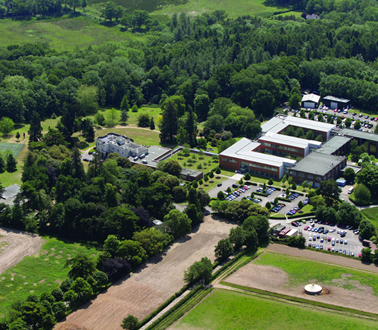 Our hubs
Whilst Roke has a global presence, how we work, connect and inspire each other is much more personal. Because innovation can flourish wherever people are!
We have four main hubs located in Romsey (Hampshire), Gloucester, Woking, and Manchester, but we also have colleagues working from a range of customer sites across the country, and remotely.
Romsey Hub
Our head office is set in the heart of Hampshire in the stunning grounds of Roke Manor where there has been a settlement of some kind since the 13th century. Our team of engineers and crucial business professionals work across all our professions providing solutions and developing new technologies.
Boasting a new, state-of-the-art Client Meeting Suite, it's a safe and vibrant space guaranteed to spark fresh thinking as we help solve our customer's complex problems.
Roke Manor
Old Salisbury Lane
Romsey
Hampshire
SO51 0ZN
Gloucester Hub
Our Gloucester office accommodates engineers working onsite, helping us support and develop technology innovation in a region that is enjoying a thriving digital economy.
Unit K
Elmbridge East
Elmbridge Court
Cheltenham Road East
Gloucester
GL3 1JZ
Manchester Hub
We're proud to be part of the fastest growing tech city in Europe. Our team of AI engineers, architects and data analysts are leveraging Digital Superiority to deliver mission impact for our clients and protect the way we live and work.
HOST Salford
Blue Tower, MediaCityUK
Salford
M50 2ST
Woking Hub
Our newest home, founded in 2021 as part of our acquisition of Cubica (now part of our Futures business unit). The Woking hub is the birthplace of our TensorGrid and OMNISCIENT technologies, and provides excellent links to London and the rest of the UK.
Space
68 Chertsey Road
Woking
GU21 5BJ