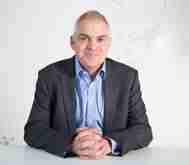 Director of Consulting
David Butler
David joined Roke in February 2019 as the Director of Consulting. He has 25 years' experience of consultancy, leading complex engineering and mission critical programmes in both the public and private sectors.
Since joining Roke, David has led its Consulting business, which provides advice, innovation, analysis, architecture and data science expertise to UK Public Sector, Law Enforcement agencies, MoD and industry clients.
Throughout his career Dave has solved clients' problems by providing leadership and advice on a variety of topics including innovation, data science, portfolio & programme management, IT implementation and corporate and industrial systems cyber security. David has had the privilege of working in many roles, including as part of Roke's Senior Leadership Team, as Board member of both Atkins Management Consultancy Division and Metronet (one of the UK's largest Public Finance Transport Initiatives) and as a member of a Client Senior Management Group.
David is passionate and committed to doing the right thing and is recognised for collaboration, conviction and determination, with a direct and open style.